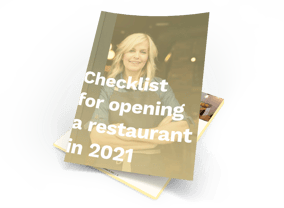 The decision is made: you are opening a new restaurant. But, where do you start?
We created this checklist for you, to help answer your questions about how to open a restaurant, plan to expand a current concept or just need a new take on your existing restaurant and need some inspiration getting started. We have also included what you need to think about regarding COVID-19. To think beyond seated guests and be open to alternative ways of dining.


Four chapters: one for each phase
We divided the checklist into four chapters. Each chapter represents a new phase of your journey.
Planning your dream
The business side of things
Building up your restaurant
Managing the journey
We discuss topics such as: establishing a concept and brand identity with clear mission and vision statements, the legal aspects of starting a restaurant, location(!) and restaurant technology. This and much more.


Be inspired by restauranteurs
Two chapter include real-life examples from restauranteurs that mastered the chapter topics. Meet Trivec-users JO&JOE in France and Brödernas & Berns Salonger in Sweden and read about their outstanding work with branding their business.