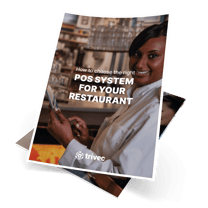 A pos system must be reliable, be able to handle many payments at the same time and be able to grow with it. It should be possible to obtain an overview of the business and of what is being sold. We have developed a guidethat gives you tips and advice on how to save time and money thanks to which solutions you choose.

Download our guide and learn more about:
The need for reliable systems that handle many payments at the same time: With a reliable pos system, you never miss a payment. A reliable cash register system means that you can make many payments at the same time in and outside the premises.
Smooth order and payment flow: Take orders and payments immediately when guest ask for it.
Base food and beverage supply on data: Tomorrow's customers expect a food supply and offers based on data about their habits - they want to eat based on specific concepts, more individualized and get offers.
Tailor-made solutions: The importance of making a long-term investment in a system that grows with you and your business.
See sales figures in real time: Reporting and analysis makes it possible to follow sales in real time, what is sold at what times and what the guests order.