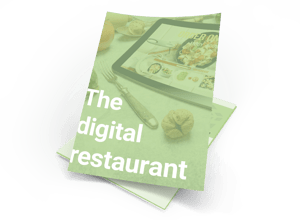 In our guide The Digital Restaurant we have taken a closer look at the steps you, as a restaurant owner, need to take for today's customers to find you and the dining experience you offer alluring. Did you know that take away-business is experiencing a big growth all over the world? Are you taking advantage of that trend?
Bottomline, the heart of a restaurant will always be about great food, service and atmosphere, but as new, digital generations of customers become a larger part of your customer segment you need to increase your digital presence in order to attract them.
Download the guide as Sheraton Hotel, Wasahof, Svenska Brasserier and so many others have done and read more about what you can do to digitize your restaurant and make sure you attract both today's and tomorrow's customers.
Highlights from the Digital Restaurant:
Attracting customers - the digital door
The customer experience - on the table tonight
The kitchen - behind the scences
Your business - maximize operations and save money